nexMatrix Hospitality Solution
Our Hospitality Solution Provides:
Technology partner with VTech for hospitality.
Meet guest expectations with advanced VTech phones.
Upgrade path for legacy phone systems to state-of-the-art VoIP with nexMatrix hosted solutions.
---
Your Total Hospitality Solution
The guest experience comes first. Vacationers and business travelers alike expect the comforts they're accustomed to at home or at the office. Guest room phones, as well as conference phones for meeting spaces, can provide a significant opportunity to make a positive impression. From outfitting your guest rooms to your business center—and even your administrative back office, turn to VTech and nexMatrix for your total hospitality solution.
---
nexMatrix Hosted VoIP
The 6 Top Reasons Clients Move To A Hosted Solution !
No need to purchase a costly premise based PBX and its high cost of installation & maintenance.
Our Hosted Solution includes 24/7 Monitoring & Support
Remote Programming & Tech Support. No longer will you wait for a technician to be called and dispatched.
One company to deal with, in terms of service and support.
All of your equipment is under warranty, the duration of your Hosted contract.
Most customers experience a monthly savings with MORE features and functionality.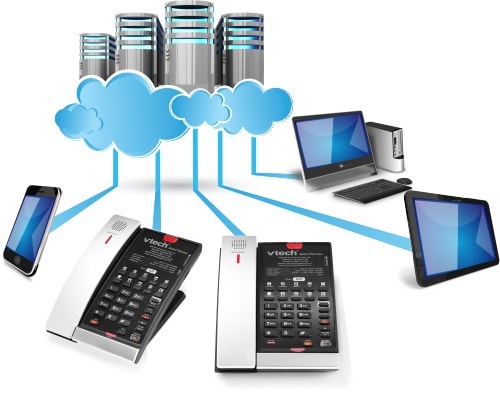 ---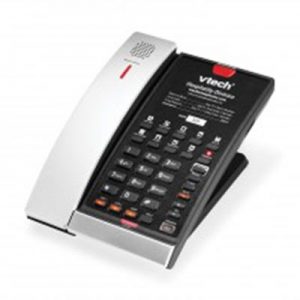 Contemporary Hotel Phones
Contemporary SIP Cordless Phone
Upgrade the guest experience with this stylish, two-line SIP phone. Cordless design gives guests more mobility, while antibacterial plastic protects them from germs.
---
ErisTerminal® SIP Phones
All-in-one communication
The back office operation is at the heart of a hotel. And the VTech line of ErisTerminal SIP phones is a complete solution to help streamline your voice, data and internet communications. ErisTerminal phones are designed to suit different employee needs. Executive desksets—some even featuring color touch screens—are ideal for management personnel looking for advanced calling features. Maintenance and housekeeping staff can benefit from the simplicity of basic desksets and cordless handsets.
---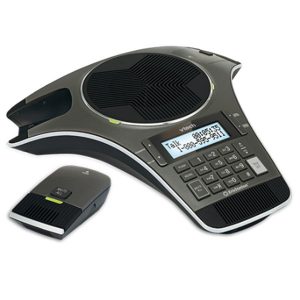 ErisStation® Conference Phones
Scalable meeting space solution
Hotel meeting spaces help facilitate face-to-face and over-the-phone collaboration. A conference phone can make or break your guests' business relationships. The reliable line of ErisStation conference phones ensures every call is crisp, clear and easy to manage. And no matter the size of the meeting, everyone can spread out and be heard without raising their voice. To increase audio coverage, participants can place wireless mics or expansion wireless speakerphones throughout the room.
---
nexMatrix Protel PBX for Hospitality
Our Hospitality Solution can also be installed using our Protel PBX with nexMatrix service and VTech analog and SIP endpoints. The Protel PBX has a track record of being very channel-centric. The key benefit of working with our partners is flexibility. The Protel PBX is especially beneficial for customers who have an outside sales force, multiple locations, work- from-home employees, companies with multiple locations, and the list goes on.
Our Protel PBX provides best-in-class products using telephony services such as SIP, POTS, PRI, T1 and more. Our partners/installers can walk you through the process of understanding the many options you have in your installation. A partner provides more than just installation services; they provide the means to get you connected without headaches many experience when installing a PBX.
Hospitality Features Download

---