Get a Protel PBX
nexMatrix Telecom does not sell the Protel PBX directly to end users.
To get a Protel PBX, a customer needs to work with one of our partners who can assist with a complete installation including
cabling. So our success depends on the success of our affiliate and reseller partners' success.
The Protel PBX has a track record of being very channel-centric. The key benefit of working with our partners is flexibility. The Protel PBX is especially beneficial for customers who have an outside sales force, multiple locations, work- from-home employees, companies with multiple locations, and the list goes on.
Our Protel PBX provides best-in-class products using telephony services such as SIP, POTS, PRI, T1 and more. Our partners/installers can walk you through the process of understanding the many options you have in your installation. A partner provides more than just installation services, they provide the means to get you connected without headaches many experience when installing a PBX.
---
From the telephone system to type of service you'll need based on your requirements, a nexMatrix Protel PBX installer/partner can walk you through the process and make certain your budget requirements are met. When you install a Protel PBX with a nexMatrix Telecom broadband connect, or PRI, or even T1, and DSL they can make certain the service level matches your budget and requirements. You'll find knowledgeable staff and partners who'll take the time to work with you on your requirements.

---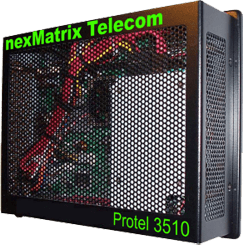 Features and Capabilities
Reliability
Lower cost of ownership
Interoperability and standards support
Scalability for up to 40,000 users, extensible to 80,000 users using the nexSwitch for routing calls
Small office scalability for those offices with 500 or less
SOHO office from 5 users to 110
---
This powerful Protel PBX solution can help your company extend video capabilities to your employees through a single, unified communications infrastructure from the desktop and video telephones to telepresence rooms using connexStream. Simplify voice systems with SIP or PRI communications to cut costs and dramatically simplify provisioning and maintenance. You can build productivity with comprehensive unified communications to help workers communicate and work more effectively. Your mobile employees are empowered with embedded unified mobility software capabilities to keep workers productive wherever they are, with any content type, on any device.
The Protel PBX is available in a choice of deployment models: public cloud, private cloud, on-premises, remote, or hybrid.
---
Call us Today Toll Free at 8445 PROTEL or at 208-697-5808