Not a virtual server, but a dedicated hosting server for your company
A dedicated hosting service, dedicated server, or managed hosting service offered by nexMatrix Hosted Solutions is a type of Internet hosting in which the client leases an entire server not shared with anyone else. This is more flexible than shared hosting, racks as organizations have full control over the server(s), including choice of operating system, hardware, etc. This solution is less expensive than a dedicated server and allows your organization to select the processor size, amount of memory, hard drive size, and the connection to the Internet you desire. Using a dedicated hosting service offers the benefits of high performance, security, email stability, and control. Due to the relatively high price of dedicated hosting, it is mostly used by websites that receive a large volume of traffic.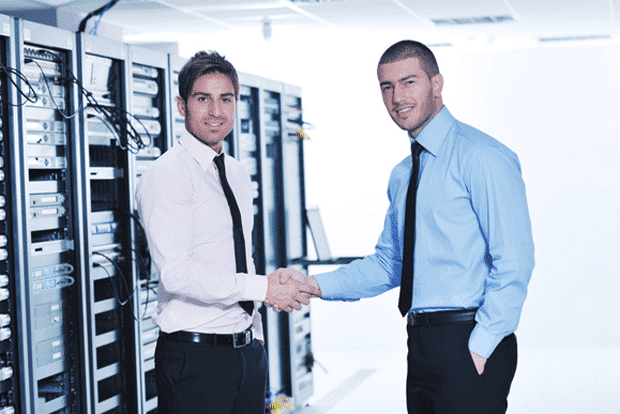 Customizable performance, security, and uptime
When you demand consistent performance or have security and compliance requirements, a dedicated server is the ideal solution. Along with the network stack and optional attached storage, our managed hosting solutions are completely dedicated to you.
Flexibility to customize your server, network and storage
Single-tenant environments for added control and security
Increase reliability with hardware redundancy and High Availability options
Predictable CPU, RAM, and disk I/O for your applications
---
What you get with dedicated servers
Managed Dedicated Servers are the ideal solution if your requirements include high compute performance, control, and flexibility. Our servers feature best-of-breed technologies and our industry-leading guarantees. Combine dedicated hardware and public cloud to deliver the best-fit architecture for your application. Rapidly scale your web tier in the public cloud, while maximizing the performance and security of your application and database tier on dedicated servers.
100% network uptime
Your business relies on uptime. Our network was designed and built for solid reliability—and we back it with our 100% Network Uptime Guarantee. Our industry-leading Managed Hosting SLA gives you the confidence to focus on your business while we manage your hosting infrastructure.
Built-in redundancy for reliability
Our dedicated servers reside in a global data center infrastructure that spans six regions, with a minimum of N+1 redundancy at the network, power, and HVAC systems layers. Our dedicated servers feature name-brand hardware, RAID options, Cisco firewalls, monitoring, and unmetered managed backup to help you mitigate your risk. Our architects can design and customize a high-availability solution with geographic redundancy to maximize reliability and uptime.
2TB outgoing bandwidth per server included
Of course, incoming bandwidth is free at nexCarrier.
Of course, incoming bandwidth is free at nexCarrier.
Verify that your business-critical services are running properly with our advanced monitoring options—FTP retrieval, mail send/receive, and URL content and transaction monitoring.
Unmetered Managed Backup
Protect your data and business reputation by reducing the risk of losing data. Get the ability to restore it quickly when you need to—without subscription limits or excess costs.
Managed Service Level included
Talk to Support and System Engineers for developing, planning, and managing your environment, get unlimited troubleshooting, and more. Learn about our Managed and Intensive SLAs.
Security and compliance
Available security solutions include VPN, anti-virus, SSL certificates, threat protection management, log manager, DoS attack mitigation, and more, to help you meet your business's security, PCI, or other compliance requirements. nexCarrier participates in and maintains the following audit reports, certifications, and documentation: ISO27002, ISO27001, PCI DSS, SSAE16 Audit Report, SOC1/2/3 Reports, and Safe Harbor Self-Certification.
Dedicated Support Team & Account Manager
Call our experienced team for help with your support needs.
URL content monitoring included
Ideal for sites that demand uptime, contain several critical pages, dynamic content or complex applications/environments.
24-hour Hardware Replacement Guarantee
We guarantee the functioning of all server hardware components and will replace any failed component at no cost.
Choice of operating systems
Choose CentOS, Ubuntu, Red Hat® Enterprise Linux, or Microsoft® Windows Server®
Critical Application Services SLA available for mission-critical workloads
Protect your mission-critical production environments with our 99.999% production platform uptime guarantee and focus on your customers, not the infrastructure.
---